CAREFULLY PROTECTING YOUR ITEMS ONE BOX AT A TIME.
When you hire Olympic Move & Transport to pack your home you can rest assured knowing that your belongings will be professionally cared for. Your move crew has been trained in techniques that met or exceed the guidelines set by moving insurance companies, so your belongings qualify for moving insurance at 100% replacement value, if you choose. Please see more about moving insurance through our partners website at MovingInsurance.com. Insurance companies set the highest standards for household goods to be safely packed and transported, so Olympic Move & Transport takes pride in qualifying our customers for insurance, when we professionally pack our customers' homes.
All of our crew members are trained in the correct way to wrap and load all household goods, according to moving insurance standards. We are expert packing professionals and specialize in packing: fine china, art, décor, kitchen-ware, books, office goods, appliances and more. Instead of adding stress to your move, leave your packing to us! We can provide packing supplies and have commercial crates that can be reused, which saves money and eliminates the need to throw away cardboard boxes after only one use. We also offer unpacking services in your new home. Our organizational skills and efficiency will make packing your old home and settling into your new home a breeze.
We recommend that you invest in new boxes for safety, damage protection and efficiency. It is necessary for us to stack boxes like building blocks in the van. If one box collapses, the whole tier may suffer. We can carry much more at a time if you use new, uniform boxes.


Use strong boxes and containers that can be secured tightly. Purchase specialty boxes for dishes, art/mirrors, wardrobe and other odd shaped items.


Be sure to tape the bottom of each box to sufficiently bear the weight of its contents. For heavier boxes, cross the tape like a + to assure adequate support.


Be sure to stretch tape ¼ of the way up the side of the box for security.


Cushion contents with packing material such as bubble wrap, newspaper or tissue.


Wrap fragile items loosely a few times to create plenty of padding.


Be sure to fill empty spaces with crumbled newsprint to create a solid block. This prevents shifting and strengthens the unit for shipping.

Avoid loading more than 50 pounds into one box. (Books should not be packed into a box with volume larger than 1.5 cubic feet.)


Pack heavier items first and then lighter/more fragile items toward the top of each box. Be sure to include a pad of packing material at the top of each box to prevent damage to breakables.

Label each box and indicate the following: (a) Which room it should go in (b) Whether it is fragile (c) If it should be loaded last so it will be unloaded first.


Color Coding with adhesive dots will allow for quicker, more accurate delivery of every item into your chosen living areas. We recommend using corresponding colored dots on boxes and furniture with each room of your new home. Merely place a matching color dot on the door jam of each living area. This attention saver will eliminate a barrage of questions at the delivery point.

Because we move a variety of household goods, hazardous chemicals including paint, fuels, oils, insecticides, cleaners, solvents etc. are not permitted on our vans. Please dispose of such materials appropriately and remember to drain lawnmowers and other small gas powered tools before pick-up.

Pack televisions and audio-video equipment in their original boxes if possible or purchase a special box for transport. Your move crew can blanket and wrap your TV's but you are risking potential damage and the included cargo insurance does not cover the cost of purchasing a new television should damage occur during the move. For this reason we recommend packing your TV inside a box or transporting your TV in the back of a personal vehicle. Label cables and tighten transit screws.


Save room by using towels and blankets to wrap fragile items and to fill top space in each box.


Pack books tightly on end in small boxes. If musty smelling, sprinkle talcum powder between the pages and wrap the book before packing. Leave stored for a couple of months to eliminate the smell.


If removing screws from furniture, tape them solidly to the objects they are removed from.


Have rugs and draperies cleaned before moving and leave them in wrappings for the move.


Pack medicines in a leak proof container.


Carry all valuables such as jewelry with you.


Out of State Movers–check with your local U.S. Department of Agriculture for regulations regarding moving plants from one state to another. Many states have restrictions on certain plants to prevent importing bugs or pests that can destroy valuable cash crops.


Potted Plants—Do not water for two days prior to move date in order to prevent leaks and to minimize weight. For larger pots over 10 gallons, do not water for 1 week prior.


Safes need to be completely emptied and left open on moving day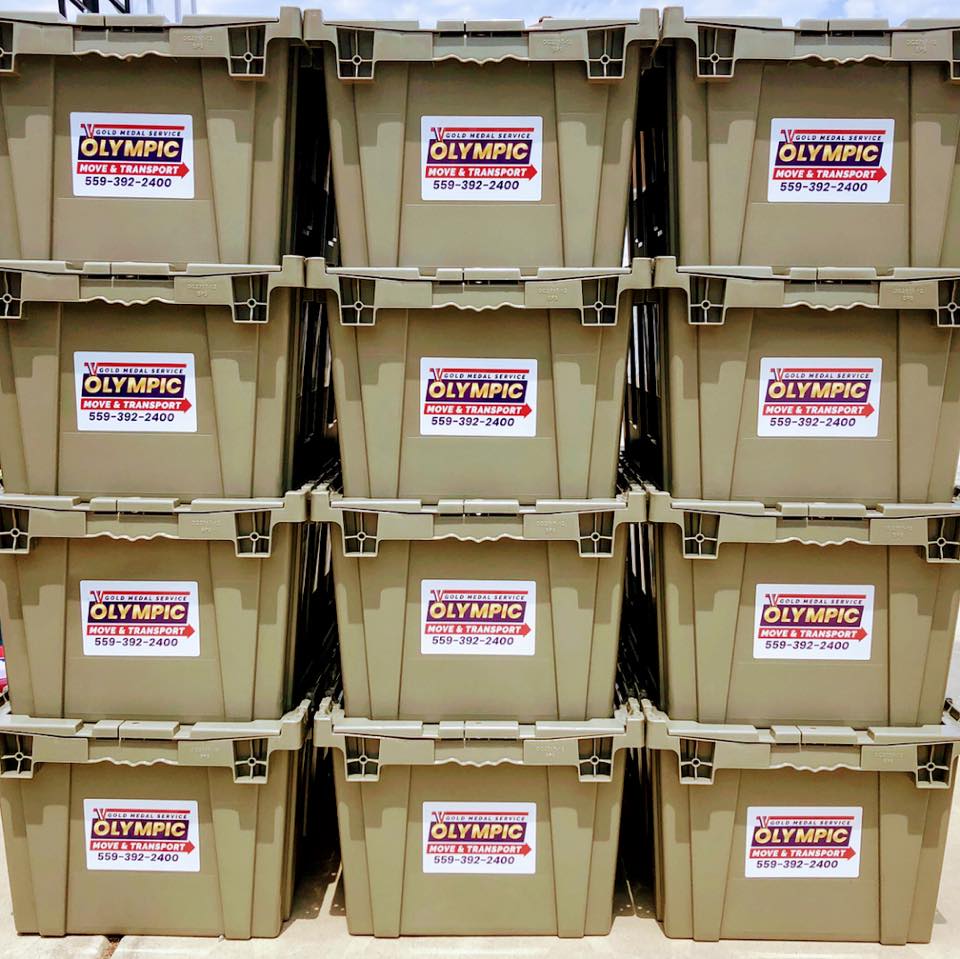 Contact us if your are interested in learning more about using our commercial crates for packing your home or office for a local move within the Fresno/Clovis area. It is a safe and cost effective way to transport your belongings to your new home or office.
Keep the following supplies handy for packing: